This weekend, we have mainly been walking up and down a mountain.
We started out from Old Bicec in Buea town (where town ends and the mountain begins) at about 9.30 on Saturday morning. Our party consisted of Hev and myself, Didimus and Sanni (our resident mountain expert). We climbed up to Hut 2, the second of three huts on the mountain, originally built by the Germans (unless you count the new hut built last, which I guess would be hut 1b...) by around 2.30 in the afternoon. The ascent from hut 1b to Hut 2 is insanely steep, entirely consisting of sharp volcanic rock. People ran down this last week!
We stayed the night at Hut 2. We cooked potatoes on a fire, and ate some of Didimus' excellent spicy chicken, all of which was fun. We slept on hard wooden benches, sharing a room with a large party of Francophones. They got up at 2 in the morning to continue their ascent, which I thought was insane, and one of their party tried to kick us out of the room, because he'd been subject to 'blacks go home' abuse when he was in Europe years ago. Not nice, I admit, but not really our fault either, so we told him where to go. The rest his party were actually really nice (if a bit noisier than I'd like at 2.30 in the morning)...
On Sunday we started up at 7.30 and reached Hut 3 by about 11.00. That part wasn't as steep as up to Hut 2, but pretty long; lots of 'are we nearly there yet' from us, followed by lots of well-intentioned lying from Sanni...
From Hut 3 to the summit is a fairly easy hike (though cold) and the air was getting thin so by this time we were struggling a little. Particularly Heather, who, need I remind you, has a pacemaker. How she did it I do not know, pure determination I think, and some encouragement from Didimus (I'm afraid I was too intent on getting myself there to be too much use to Heather).
But we made it!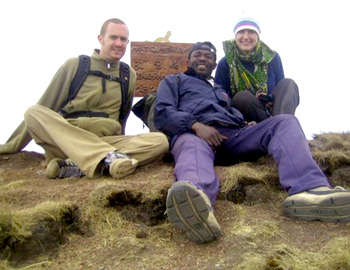 We didn't hang about too long at the top, because it was very windy and rather cold. The descent was pretty scary in places, the stretch down from Hut 2 being a ~45° gradient consisting of very sharp volcanic rock. Again, it must be pointed out, they run down this; apparently there's some straight leg technique that saves you destroying your knees. Well, I wasn't aware of this technique, so I just went easy, with the help of a stick procured at Hut 2. It turns out that my knees really aren't very good. By the time we got back down to Hut 1b most of the descent was done, and so were my knees. After Hev's struggle with the ascent, it was my turn to suffer: fair's fair...
From here it should have been easy, but caution on the steep descent had slowed us, so as we trekked down through the forest it got dark, and I was hobbling like an old man, and my right ankle started hurting because of compensating for my weak left knee. Fortunately, Hev insisted on bandaging it when I wasn't going to bother, which I think saved me from wrecking it (cheers babe!)
Finally we made it out of the forest, down through upper farms and back to town and straight to bed (after quickly knocking back the rice with beef and Top Pamplemousse that Marceline had waiting for us - you're a star and a mind-reader Max, thanks).
On Monday we had stiff muscles, sunburn necks and noses, many many blisters (special mention to Hev's heals, which were blistering by mid Saturday morning - ashia) and were absolutely knackered, but no permanent damage sustained - result.
We were quite pleased with ourselves, and on Monday night we took Sanni and Didmus for the well-deserved beer that we were too tired to buy them on Sunday evening. All the locals seemed to know we went up the mountain (we kind of stick out a bit). Many of them doubted that we'd be able to get to the top (and they don't even know about the whole pacemaker issue), and some of them refused to believe that we'd been to the summit, even when Didimus confirmed it, in Pidgin and everything!
Photographic evidence will be forthcoming, we're going back to the bar tonight, armed with a print out of our summit photo.
So we did it, and it was fun (though hard). I'd gladly climb it again, if only I could arrange to be airlifted down from the summit, coming down's a killer...